Mend a Broken Heart Valentine's Event!

Atlantica
Many have come to
Guide Acong
with their tale of broken hearts, he's become so overwhelmed that now he's asking Atlantian's for help! All around the world,
Heart Shards
from broken hearts can be found on
Bonus Monsters!
Collect 10 of Heart Shards to create a
Pure Heart.
For every Pure Heart you create for Guide Acong, he will reward you with some lovely prizes!

Valentine's Day Event
February 7th - February 21st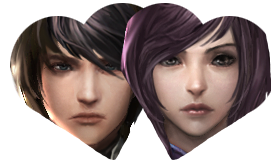 Heart Shards
are sent to your mailboxes based on login time (must be level 20+ to receive event mail), alternatively, Atlantians can also acquire Heart Shards by hunting bonus monsters! To craft
Pure Hearts
, which is the item needed to trade into guide acong, you'll need
10 Heart Shards
. You can craft this item by opening your skill window, selecting
Quest
, and locating Pure Heart in the item list.
Hourly Giveaway
| | |
| --- | --- |
| 1 Hour | 1 Heart Shard |
| 2 Hours | 2 Heart Shards |
| 3 Hours | 2 Heart Shards |
| 4 Hours | 3 Heart Shards |
Exchange Items
| | |
| --- | --- |
| Chocolate Muffin | 1 Pure Heart |
| Delicious Chocolate Cake | 3 Pure Heart |
| Chocolate Cake | 3 Pure Heart |
| Hot Chocolate and Cookies | 3 Pure Heart |
| Sweet Chocolate Piece | 7 Pure Heart |
| [Common] Valentine's Delicacy | 7 Pure Heart |
| [Common] Hot Chocolate Feast | 14 Pure Heart |